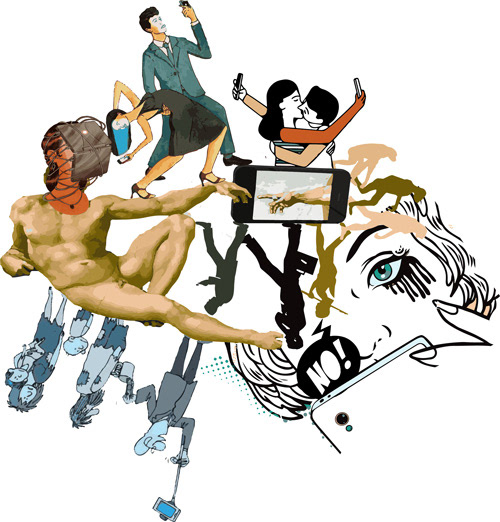 In meiner Arbeit geht es um den "PHONOSAPIENS". 
Die Interpretation bleibt ganz den Betrachter überlassen, aber die Aussage
durch die Bilder, ist doch sehr eindeutig.
Slowly i am awakening. 
My mind is still covered by a smoke screen.
I feel your fingertips touching me. 
On my cold and smooth-shaven skin. 
You swipe away my tears, when you come home. 
I am observing your compulsive gambling. 
Holding me close to your private parts,
I do not show any empathyies,  
and only answer in symphonies 
when you expect it from me. 
I do not fill in any blanks.
But you think so.
I do not feel. You fill me. 
You smile for a second and then. 
You put me back into your pocket. 
Please turn me on again. 
Sincerely, your smartphone.